Content by: Voice of America
The top U.S. law enforcement official, Attorney General Jeff Sessions, told Congress on Wednesday there has been "an erosion in the respect for the rule of law" in the country.
Sessions contended that "too often advancing political agendas have been substituted for following the law." He attacked several large U.S. jurisdictions, referring to them as "sanctuary cities," for refusing to cooperate with federal officials in identifying immigrants illegally in the country when they have been held for possible criminal offenses.
"We urge all jurisdictions to end the lawlessness to cooperate with federal immigration officials and stop letting criminal aliens back on their streets to further victimize your communities," Session said. "It does not make sense."
Sessions' testimony came just hours after President Donald Trump again criticized the Justice Department that Sessions oversees. Trump questioned why Justice was not investigating James Comey, a former director of the Federal Bureau of Investigation who Trump fired in May, for his role in clearing Trump's 2016 election challenger, Democrat Hillary Clinton, of wrongdoing for her use of a private email server while she was the country's secretary of state.
In initial questioning from lawmakers, Sessions defended Comey's firing, but declined to detail his conversations with Trump about Comey's dismissal.
In July 2016, four months before the election, Comey announced that Clinton had been "extremely careless" in her handling of classified material in her emails, but said her actions did not warrant criminal charges. Comey announced his conclusion just days after investigators questioned Clinton, with Sessions saying Comey's public statement announcing its conclusion of the case violated Justice Department policy.
But Trump, in a Twitter comment Wednesday, said, "Wow, FBI confirms report that James Comey drafted letter exonerating Crooked Hillary Clinton long before investigation was complete. Many people not interviewed, including Clinton herself. Comey stated under oath that he didn't do this-obviously a fix? Where is Justice Dept?"
Trump added, "As it has turned out, James Comey lied and leaked and totally protected Hillary Clinton. He was the best thing that ever happened to her!"
Later, less than two weeks before the November election, Comey reopened the Clinton probe after investigators found thousands of her emails on the computer of the estranged husband of a key Clinton aide, Huma Abedin. However, after days of poring over the emails, investigators said nothing new was found and again dropped the investigation.
Clinton, in the months after her upset loss, has blamed Comey's reopening of the probe so close to the election, as one reason she lost.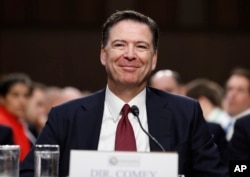 Former FBI Director James Comey smiles during a Senate Intelligence Committee hearing on Capitol Hill, in Washington, June 8, 2017.
Trump's firing of Comey is now one aspect of the criminal probe being conducted by special counsel Robert Mueller into whether the Trump campaign colluded with Russian interests to help him win the White House and whether Trump obstructed justice in dismissing Comey.
Trump has denied any link with Russian interests during the campaign, but has said that he was thinking of "this Russia thing" when he ousted Comey, who was heading the FBI's Russia investigation before Mueller, over Trump's objections, was appointed to take over the probe.
Sessions said Comey's public statement about the Clinton case was reason enough for his firing. But Sessions declined to answer any questions about his conversations with Trump about the president's thoughts on Russia in ousting Comey.
Trump has repeatedly said the Russia investigation is an excuse being used by Democrats to explain Clinton's loss.