Content by: Voice of America
THOUSAND OAKS, CALIF. —
Authorities in Southern California say a gunman killed 12 people late Wednesday during an attack at a bar and dance club.
Ventura County Sheriff Geoff Dean told reporters one of the first officers to arrive at the Borderline Bar & Grill in the city of Thousand Oaks was shot after going inside the confront the shooter.
He said Sheriff Sgt. Ron Helus, a 29-year veteran of the department, later died after being taken to a hospital.
"I told his wife he died a hero," Dean said.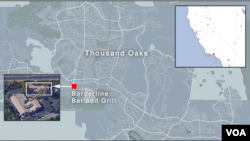 There were multiple people injured in the attack as well, but Dean said the exact number was unclear because a number of them had taken themselves to hospitals for treatment.
"It's a horrific incident," Dean said."It's part of the horrors that are happening in our country and everywhere, and I think it's impossible to put any logic or any sense to the senseless."
Investigators are working with the help of the FBI to determine the identity of the shooter and a motive for the shooting.
President Donald Trump wrote on Twitter early Thursday he has been "fully briefed" on the shooting, applauded the response of law enforcers and extended blessings to the victims and their families.
Dean said the suspect was found dead inside the bar with a gunshot wound, but that it was not clear who had fired that shot.
Eyewitnesses described a scene of chaos as shots rang out in the dance club and patrons scrambled to seek cover and escape.
The shooting comes days after a gunman massacred 11 people at a synagogue in Pittsburgh, Pennsylvania. The suspect in that case, 46-year-old Robert Bowers, has pleaded not guilty to federal charges. Prosecutors are seeking the death penalty.
Tags: