Content by: Voice of America
GENEVA —
U.N. High Commissioner for Human Rights Zeid Ra'ad al-Hussein warns that governments increasingly are moving toward authoritarianism and oppression, crushing human rights values and protections in their wake.
In his address at the opening of the U.N.
Human Rights Council's three-week session in Geneva, Zeid painted a dark picture of the state of human rights around the world. He condemned the actions of violent extremists and terrorists, but warned the greater dangers to society are from governments who peel away human rights protections.
In a rapid overview of the global situation, Zeid expressed concern about extensive gross human rights violations in 39 countries.
Rohingya issue
He highlighted the brutal security operation underway in Myanmar's Rakhine state, which has prompted more than 270,000 minority Muslim Rohingya to flee to Bangladesh in less than three weeks.
A house is seen on fire in Gawduthar village, Maungdaw township, in the north of Rakhine state, Myanmar, Sept. 7, 2017.
"We have received multiple reports and satellite imagery of security forces and local militia burning Rohingya villages, and consistent accounts of extrajudicial killings, including shooting fleeing civilians," he said.
Zeid called on the Myanmar government to end its current military operation and to reverse its discrimination against the Rohingya.
Yemen
The high commissioner also condemned the Saudi-led coalition airstrikes in Yemen, which he says are responsible for most of the more than 5,000 civilian deaths in the country.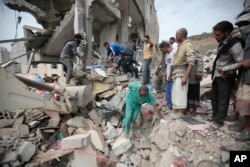 FILE - People inspect the rubble of houses destroyed by Saudi-led airstrikes in Sanaa, Yemen, Aug. 25, 2017.
Turning to Africa, he said he is deeply alarmed by the sharp deterioration in the security situation in Central African Republic.
"I am extremely concerned about persistent reports of atrocity crimes, which are pushing the country very close to a complete breakdown along religious and ethnic lines… Anti-Balaka and ex-Seleka forces, as well as various splinter groups, are responsible for the escalating cycles of reprisal attacks," he said.
This is the final year of Zeid's mandate as high commissioner. He says the world has grown darker and dangerous during this time. He says human rights principles are the only way to avoid global war and profound misery and deprivation.