Content by: Voice of America
Iranian President Hassan Rouhani pledged Tuesday his government would quickly help to rebuild areas affected by a deadly earthquake, as the country observed an official day of mourning for the victims.
Rouhani spoke during a visit to Kermanshah, which was hit the hardest by Sunday's magnitude 7.3 quake along the Iran-Iraq border.
WATCH: Iran Earthquake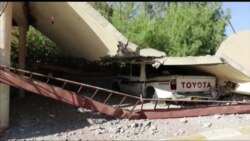 Embed code
Copy and paste the embed code below. The code changes based on your selection.
The code has been copied to your clipboard.
Video size
x pixels
Share this video
https://www.voanews.com/a/4114048.html
0:02:09
0:00:00
/0:02:09
▶
Direct link
Iran's state-run IRNA news agency said at least 430 people were reported dead and 7,000 others injured. Many of the victims were in Sarpol-e-Zahab in Iran's Kermanshah province. Iraq's Interior Ministry put the death toll there at seven people with 500 injured.
A woman mourns as she holds the body of her daughter, who died in an earthquake, in Sarpol-e-Zahab, western Iran, Nov. 13, 2017.
The U.S. Geological Survey said quake was centered near the town of Halabja in Iraq's Kurdistan region and was felt as far away as Turkey and Israel.
People fled their homes when the earthquake hit and many have spent the nights since either in relief camps or outside in the cold as numerous aftershocks hit the region.
The World Health Organization has sent an emergency response team, including ambulances and surgical kits, while rescue teams dug through the remains of collapsed houses and used body-sniffing dogs to look for victims.
Survivors sit in front of buildings damaged by an earthquake, in Sarpol-e-Zahab, western Iran, Nov. 13, 2017.
​Iran sits on several major fault lines and its history is filled with numerous deadly earthquakes.
A 2003 quake in the southern city of Bam killed at least 26,000 people, while a 2012 quake in East Azerbaijan province killed more than 300.