Weaving carpets is a skill that has been passed down through the generations and in the central Asian country is largely the work of women.
Although Azerbaijan is located on the ancient trading route known as the Silk Road, many artisans, especially those living in mountainous areas, are finding it increasingly difficult to get their carpets to market.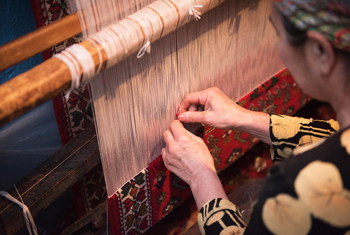 ABAD/Elkhan Ganiyev
Small and Medium sized enterprises, like the carpet weavers of Azerbaijan, account for 60-70 per cent of global employment, according to the UN.
As the International Micro-, Small and Medium-sized Enterprises Day is marked across the world on June 27, the Azerbaijani authorities, with the support of UNDP, are boosting efforts to help artisans sell their goods.
For more on this ancient artistry: https://undp.shorthandstories.com/ancient-artistry/